-・- From My Everyday Life to Japanese Culture -・- Why don't you see the real Japan, not the typical foreigners' version.
-- --
上記の広告は1ヶ月以上更新のないブログに表示されています。
新しい記事を書く事で広告が消せます。
Posted by Kinakinw | --:-- | Comment [0] | TrackBack [0] | スポンサー広告
21 2010


From August 20th to the 22nd, Azabu-juban shoutengai(麻布十番商店街), a nearby shop street, is holding a summer festival in which hundreds of yatai (屋台: food stalls) stand. It's one of the biggest food festivals in Tokyo.

The festival is held in the third weekend of August every year.
When I was a child, it was one of the summer events I was looking forward to and, at the same time, alerted me to finish my homework during the summer vacation.



These girls are just like Kinakinw at that age.

After Azabu-juban has become more convenient for visitors with the opening of new subway lines, the shop street are too crowded to enjoy the festival. Especially, after 6 p.m. it's impossible to walk through the street.
Thus I always visit there early in the evening, move among the food stalls, buy several types of food, and have them for dinner.



Okonomi-yaki (お好み焼き: a pancake with bits of meat and chopped cabbages )



Tako-yaki yatai(たこ焼き屋台: a octopus dumpling stall)



Choco-banana (チョコバナナ: chocolate covered bananas) and Yakisoba (焼きそば: pan-fried noodles)



Boys, you never win a game console!
This is a (crooked) lottery PTA doesn't like, but children learn the world from the stall keeper.



Kingyo-sukui (金魚すくい: goldfish scooping)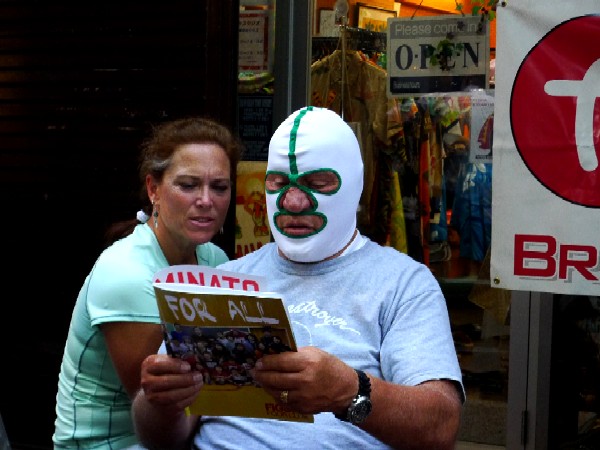 Yeah, Mr. Destroyer!
He is on cordial terms with an owner of a building in Azabu-juban and a familiar person in this neighborhood. Good to see you!



Posted by Kinakinw | 09:28 | Comment [0] | TrackBack [0] | Tokyo Life