-・- From My Everyday Life to Japanese Culture -・- Why don't you see the real Japan, not the typical foreigners' version.
-- --
上記の広告は1ヶ月以上更新のないブログに表示されています。
新しい記事を書く事で広告が消せます。
Posted by Kinakinw | --:-- | Comment [0] | TrackBack [0] | スポンサー広告
16 2010
I visited the northwestern area of the city this afternoon.




This area is called Nob Hill, an exclusive residential district with many old Victorian houses. It's turned into a shopping district over the past dozen years or so. (There is a town with the same name in San Francisco.)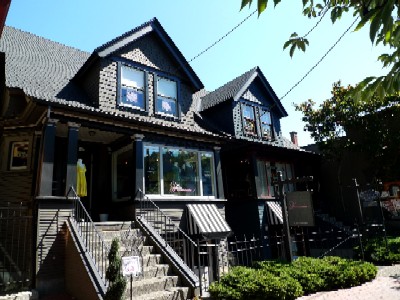 I had a lunch at a restaurant in the area.
I recognized at a glance that it's a good restaurant, and I was right.



The restaurant is run by Laurelwood Brewing Co., so I had to drink their beer!




:::::::::::::::::::::::::::::::::::::

When I returned to the downtown, I came across an India festival held in the town's square.




Well, I bought this dress today.




I think it's cute.
However, it frequently happens that even if I think so in the States, I would lack the opportunity to wear it in Tokyo….

I'll head back to Japan tomorrow!



Posted by Kinakinw | 16:36 | Comment [0] | TrackBack [0] | Travel & Hot Spring