-・- From My Everyday Life to Japanese Culture -・- Why don't you see the real Japan, not the typical foreigners' version.
-- --
上記の広告は1ヶ月以上更新のないブログに表示されています。
新しい記事を書く事で広告が消せます。
Posted by Kinakinw | --:-- | Comment [0] | TrackBack [0] | スポンサー広告
03 2010
Hayden is my internet acquaintance. This heading is the title of his blog.
He introduced a video taken at Maho Beach located on the island of St. Martin in the Caribbean in the blog entry, "Low Flying Boeing 747" & "F-22 Vertical Takeoff" on 29th May.
The entry inspired me to write this article because I went to St. Martin the year before last and took photos of landing planes at the beach. These were really beginning to fade in my USB flash memory.




Maho Beach is famous for its unique location immediately adjacent to the Princess Juliana International Airport of St. Martin. Landing planes are so close to the people on the beach that you feel you could touch the wheels, especially when a jumbo jet aircraft like Boeing 747 is landing.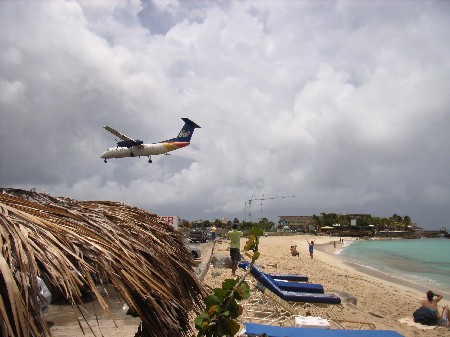 I couldn't shoot an impressive image because all planes I saw were rather small. Yet, I enjoyed watching planes for an hour or so on the beach.

At that time, I took the vacation in the Caribbean countries on the sidelines of a conference held in the east coast. I joined my friend in New York after the conference, and then we reached our final destination, Anguilla by way of St. Martin.

I have made several visits to the Caribbean Sea.
Beach resorts in Hawaii and Asia are nice, too, but it's more exciting to travel to distant places like the Caribbean islands. After all, I spend my time in the same way in any resorts - do nothing special. I go all the way to the southern islands, far away from Tokyo, just to look out at the sea and drink frozen margaritas. I love that!



Posted by Kinakinw | 11:04 | Comment [0] | TrackBack [0] | Travel & Hot Spring