-・- From My Everyday Life to Japanese Culture -・- Why don't you see the real Japan, not the typical foreigners' version.
-- --
上記の広告は1ヶ月以上更新のないブログに表示されています。
新しい記事を書く事で広告が消せます。
Posted by Kinakinw | --:-- | Comment [0] | TrackBack [0] | スポンサー広告
30 2010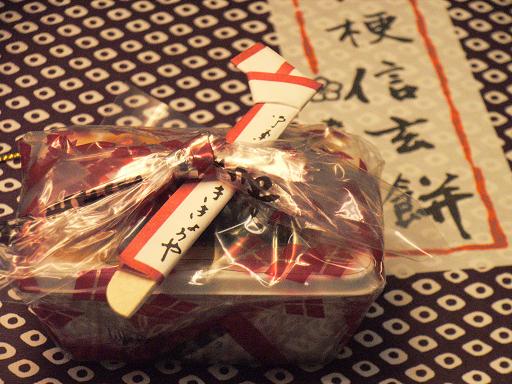 This is "Shingen Mochi (信玄餅)", one of my favorite treats.

Shingen Takeda (武田信玄, 1521-1573) was the heroic territorial lord of the province of Kai (modern Yamanashi Prefecture). Mochi is rice cake.
Shingen Mochi is the best-known souvenir from Yamanashi. Metaphorically speaking, it's like 'Napoleon pie, souvenir from Corsica' thing.


 

Opening up a plastic sheet, removing a little lid and plastic container of syrup and then putting the syrup on soybean flour, I come within an inch of eating. I carefully mix the syrup, flour and little three pieces of rice cakes settled in the bottom using a little wooden paddle provided in the mochi kit.
Let's eat!

As for this kit, I'd say there's nothing that could be improved. I cannot count how many times I ate Shingen Mochi, but I'm always deeply impressed by the common treats. The plastic sheet is not just a wrapper, but it also serves as a mat because soybean flour is easily spilling over. The little pocket of the flour pressed by the lid and container is absolutely essential for putting sticky liquid on powder. The paddle naturally serves as a fork when eating the mochi.

It's standard originality and ingenuity in Japan that manufactures make all kinds of efforts for costumers.
Japanese, including me, are accustomed to the standard, so when we are out of the country, we sometimes feel disappointed with each and every local commodity.



Posted by Kinakinw | 12:34 | Comment [0] | TrackBack [0] | Cultural Issue (Japan)