-・- From My Everyday Life to Japanese Culture -・- Why don't you see the real Japan, not the typical foreigners' version.
-- --
上記の広告は1ヶ月以上更新のないブログに表示されています。
新しい記事を書く事で広告が消せます。
Posted by Kinakinw | --:-- | Comment [0] | TrackBack [0] | スポンサー広告
15 2011
Yumura hot spring resort, which is made up of fourteen inns, is ten minutes away by bus from Kofu Station in Yamanashi Prefecture. The resort has been known since ancient times. According to legend, Kobo-Daishi (弘法大師, 774 – 835), Kukai (空海, a Japanese monk who formed the Shingon school of Buddhism), found the spring. It used to be surrounded by field, but now it's in a residential region because of urbanization.



This is a Kinakinw's hand submerged in Yumura hot spring water.

According to The Yumura Spa Association's HP, it's sodium and calcium sulfate chloride spring (ナトリウム・カルシウム?塩化物・硫酸塩泉), not carbon dioxide spring (二酸化炭素泉). However, as you see from the picture, if you soak in the hot spring, your body will be covered in bubbles, which is the feature of spring carbon dioxide.

It's also characterized by alkaline spring called Bihada-no-yu (美肌の湯, hot spring of beautiful skin) with pH of 8.4. It's considered alkaline spring removes dead skin and makes skin smooth. Actually, when I got in it, I felt as if skin lotion coated entire my body. I mean the water was rich.

I visited 2 inns with a reputation for quality of water besides Meiji Ryokan where we stayed in. Interestingly, each had slightly different water though they were situated close to each other.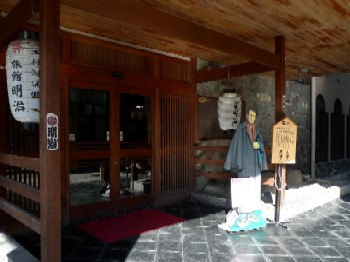 Meiji Ryokan (旅館明治) It was nice alkaline water with sulfurous aroma.



Hotel Ryokan (吉野ホテル) It was the richest alkaline water but didn't smell sulfurous.



Hotel Yumura B&B (湯村ホテル) It was the bubbliest and faintly smelled sulfurous.

If you go to Kofu on business, stay in Yumura instead of hotels around the station.



Posted by Kinakinw | 11:45 | Comment [0] | TrackBack [0] | Travel & Hot Spring