-・- From My Everyday Life to Japanese Culture -・- Why don't you see the real Japan, not the typical foreigners' version.
-- --
上記の広告は1ヶ月以上更新のないブログに表示されています。
新しい記事を書く事で広告が消せます。
Posted by Kinakinw | --:-- | Comment [0] | TrackBack [0] | スポンサー広告
30 2010
The year-end and New Year is our important holiday season.
After Christmas, the town is in the holidays' atmosphere: people are preparing for the events during the year change period.



People purchasing flowers for Shogatsu (正月, New Year)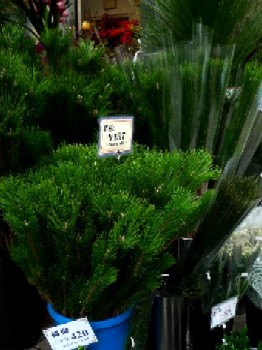 Shimekazari (しめ飾り) stall
Shimekazari is a twisted straw rope with fern leaves, an orange and other items of good omen. We hang it at the front door until Dec. 31 for washing away evils of that year.




I like this period of a year.
I look back at the year and think of many things happened in my life.
Though I have ups and downs as usual, I'm glad I get the period in peace.

I thank each and every one of you for reading my blog.
You really help me continue it.
I wish you good luck for the coming year!



Posted by Kinakinw | 17:02 | Comment [0] | TrackBack [0] | Tokyo Life