-・- From My Everyday Life to Japanese Culture -・- Why don't you see the real Japan, not the typical foreigners' version.
-- --
上記の広告は1ヶ月以上更新のないブログに表示されています。
新しい記事を書く事で広告が消せます。
Posted by Kinakinw | --:-- | Comment [0] | TrackBack [0] | スポンサー広告
28 2010
When the air becomes crisp, I feel a desire for raw oysters.

Unfortunately, this is a poor year for cultured oysters in Japan because of the crazy summer heat. However, I didn't realize that at this oyster bar, "Season", in Roppongi. Unlike the latest trendy oyster bars, it's a small and cozy restaurant under private management.

I visited the restaurant with my friends the other day. There were five kinds of raw oysters: Hokkaido-Akkeshi (厚岸), Hokkaido-Konbumori (昆布の森), Iwate-Kamaishi (釜石), Miyagi-Hamaichi (浜市), Hamaichi- Creamy Pearl Oyster(珠姫牡蠣).



The First Round (individual plate)

Each of us tasted all of them (we described it as "the first round") and then reordered those one liked ("the second round"). I liked Creamy Pearl Oyster the best.



The Second Round

I'm always in a good state of mind at the restaurant because everyone there, including customers and the members of the staff, loves oysters. This might sound silly, but it's my happiest moment when I enjoy oysters, as much as I want, with people with the same interests.

I really recommend the oyster bar, which has a nice atmosphere.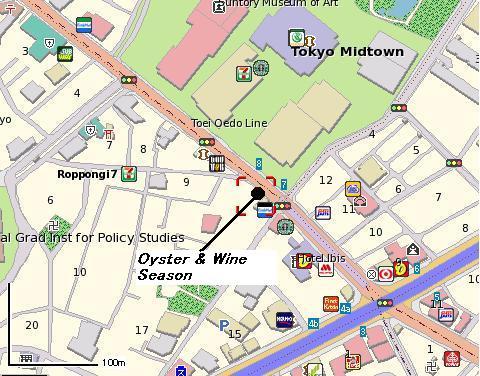 Oyster & Wine Season
B1, Power House Bldg.
7-12-3 Roppongi, Minato-ku, Tokyo
03-3478-8847
Lunch: 11:30?14:30
Dinner: 18:00?23:30
Bar Time: 23:30?04:00(L.O.03:00)
Closed: Sunday & Public Holiday
(There isn't a non-smoking table.)
Posted by Kinakinw | 14:00 | Comment [0] | TrackBack [0] | Tokyo Life