-・- From My Everyday Life to Japanese Culture -・- Why don't you see the real Japan, not the typical foreigners' version.
-- --
上記の広告は1ヶ月以上更新のないブログに表示されています。
新しい記事を書く事で広告が消せます。
Posted by Kinakinw | --:-- | Comment [0] | TrackBack [0] | スポンサー広告
12 2010
I encountered a parade of Yabusame (流鏑馬, traditional Japanese horseback archery) yesterday.




In this style of mounted archery, an archer wearing a historical costume attempts to hit the tree wooden targets from a horse galloping along the course. It's believed that Yabusame was initiated at the beginning of the Kamakura period (about 1185) by Minamoto no Yoritomo (源頼朝), the founder of the Kamakura Shogunate.




This parade was hosted by Anahachiman-guu (穴八幡宮, a Shinto shrine in Shinjuku Ward). They marched from the shrine to a nearby park, and the archers performed Yabusame as a Shinto ritual in the park.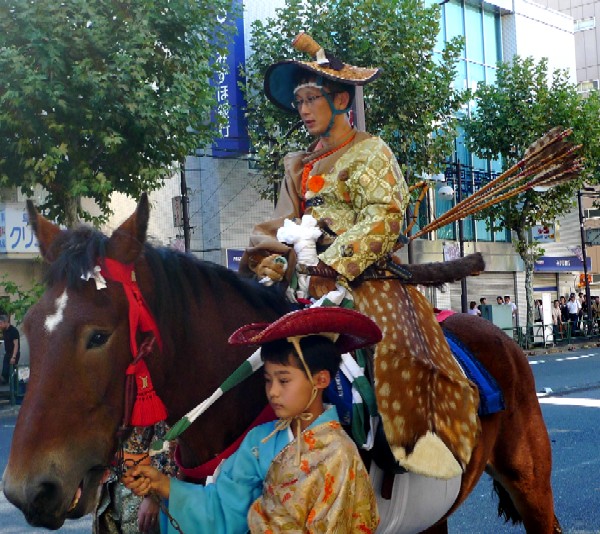 I didn't have time to watch the performance. What a pity!
Yabusame of Anahachiman-guu takes place on National Sports Day (the second Monday of October) every year, so I want to see it next time.
I'm told it's exciting and dynamic.



Posted by Kinakinw | 01:24 | Comment [0] | TrackBack [0] | Tokyo Life