-・- From My Everyday Life to Japanese Culture -・- Why don't you see the real Japan, not the typical foreigners' version.
30 2011
I feel very much that I want to do something for Fukushima other than monetary donations. My thoughts grow stronger every day. I wrote about people in Fukushima the other day. Electricity produced from the nuclear plant was used in Kanto region, and we, people in the capital sphere, have inflicted the unreasonable risk on them. Now the victims of the earthquake and tsunami bear an extremely large burden of the nuclear accident: the forced evacuation, the limitation of outdoor activity, the radioactive pollution, and harmful rumor of Fukushima's and neighboring prefectures' products.
義援金以外に福島のために何か出来ないか、そんな思いがつのります。
以前にも書いたように、関東に電力を供給するために不当なリスクを押し付けられていた福島の皆さんは、地震や津波の甚大な被害を受けた上に、今原発事故のため多大な負担を強いられています。

The other day, I found Minato Ward, my hometown that is one of the 23 special wards that make up the core part of Tokyo, collects several kinds of aid supplies, as requested by Iwaki City, from inhabitants of the ward from March 23rd to 31st. I didn't know that, but the ward has a sister city relationship with Iwaki. Two towns also conclude an agreement for mutual assistance in natural disasters.
先日、港区がいわき市から要請のあった救援物資を区民から募っていることを知りました(3月23?31日迄)。知らなかったのですが、我が港区はいわき市と姉妹都市で、災害時の相互支援の協定を結んでいるそうです。



Iwaki City is located in the southeastern corner of Fukushima Prefecture, adjoining Ibaraki Prefecture to the south. It's affected by the tragic disasters and the nuclear accident.
いわき市は福島県の南東部、茨城県と接する位置にあり、大震災と原発事故の両方の影響を受けています

I visited Iwaki City's HP and found they especially lack retort-packed and canned food. The hysterical townspeople bought up these items just after the earthquake, and they are still sold out at many supermarkets. I scared up them in the picture by going from shop to shop.
いわき市のHPを見ると、現在レトルトや缶詰の食品が不足しているということで、近所の店を回ってそれらの食品を集めました。地震直後にパニックになった人々が買い占めた(被災地に送るために買った人もいたのですが)ため、今でも売り切れが続いていてまだ品薄です。



Some of foods I brought in
持ち込んだ食品の一部

A Yamanashi-based bus company running community bus in Minato Ward cooperates with the aid: the bus lines are available free of charge if we tell a driver that we are on the way to or from sports center, a collecting site of the supplies. My sister suggested I pay bus fare by myself, but I thought I'd better accept the offer because the company wants to work in complete solidarity with the inhabitants and support Iwaki City.
港区内でコミュニティバスを運営する山梨の富士急行も、この支援に協力しています。受付場所となっている港区スポーツセンターへ救援物資を届ける行き帰りは、その旨を運転手さんに言えば無料でバスに乗れるそうです。妹には「バス代くらい払えば」と言われましたが、区民と一緒に支援しようというバス会社の希望に沿って、好意を受けた方が良いと思いました。



I gave the word and took a free trip to and from the collecting site.
合言葉を言って、行きも帰りも無料で乗せて頂きました

City officials of Iwaki deliver the supplies to their town every day.
集まった救援物資はいわき市の職員の方々が毎日現地に届けているそうです。




Every little bit helps. I think it's important to join hands with each other.
I ought to check it out this kind of activities frequently.
塵も積もれば山となる。皆でやることが大切かなと思います。
このような活動をこまめにチェックしなくては。
スポンサーサイト
Posted by Kinakinw | 18:15 | Comment [0] | TrackBack [0] | Tokyo Life
29 2011
On March 28th , the Meteorological Office declared that someiyoshino (染井吉野, the most common type of cherry trees in Japan) had opened in Tokyo. The cherry tree in this photo is a fastest blooming tree, which isn't someiyoshino, in my neighborhood. It's blooming beautifully this year, too.
昨日、東京では桜の開花宣言がありました。写真の木はソメイヨシノではないのですが、我が家の近所ではいつも一番早く咲く桜です。今年もちゃんと咲きました。




Saigyo (西行, 1118 - 1190), a Buddhist monk, was a famous Japanese poet.
Here is his cherry-blossoms-related Waka poem, which fits this year's cherry-blossom viewing.
この西行の歌が今年の桜にぴったりのような気がします。

"花にそむ 心のいかで 残りけむ 捨てはててきと 思ふわが身に"

I wonder why I'm still impressed with cherry blossoms. I think I gave up my attachment to earthly concerns.(花に感動する心がどうして残っているのだろうか。世俗への執着を捨て去ったはずのこの身なのに)
Translated by Kinakinw

It was a beautiful sunny day in Tokyo on March 28th, 2011.
この日の東京は穏やかに晴れた一日でした。


Posted by Kinakinw | 01:44 | Comment [0] | TrackBack [0] | Tokyo Life
27 2011


It's school graduation season in Japan where the new term begins in April.
Though many universities called off a ceremony because of concern about an aftershock and cost savings (they will make donations to afflicted people), I see some female students wearing Hakama (袴, skirtlike trousers that are worn over a kimono) on the street. Hakama are popular costume for a graduation ceremony among female college students.
卒業式シーズンの3月。多くの学校で卒業式が中止になる中、それでも街では袴姿の学生さんを見かけます。

During this period, I was supposed to enjoy watching the World Figure Skating Championships in Tokyo. As you may know, JSF (Japan Skating Federation) declined hosting the Championships in Japan, and it'll be held in Moscow/Russia, on April 24-May 1, 2011.
本来ならこの時期は、東京で行われるはずだったフィギュアスケート世界選手権を見ているはずでした。しかしご存知のように、日本スケート連盟は開催を辞退し、世界選手権は4月24日から5月1日までロシアのモスクワで行われることになりました。




I think it was impossible for JSF to host the Championships in Japan and they should have given up sooner. Even without the nuclear accident in Fukushima to add to scary emotions, this is no time for the sporting event. The cataclysmic catastrophe is still going on. What's happening now is that some victims of the Great Tohoku-Kanto Earthquake staying in temporary shelters still cannot get enough food and medical care because of extensiveness of the afflicted areas.
現在の日本で世界選手権を行うのは無理ですし、日本スケート連盟はもっと早く辞退すべきだった。恐怖心をあおる福島第一原発の事故が起きていなかったとしても、今は大きなスポーツイベントをやる時期ではないと思います。大震災とその被害はまだ続いているのです。避難所にいる被災者の中には、充分な食べ物がない、医療が受けられないという方々が今なおいるのですから。

I was so stoked about the event and very well prepared for watching it's live broadcasting, but since the catastrophe occurred I haven't been able to think of it. Even so, I checked ISU's (International Skating Union) HP and saw what was going on, and I felt, I must say that, ISU seemed only interested in their business. Then now I'm losing interest in the Championships itself.
世界選手権をとても楽しみにしていたし、生中継を見る準備もしていましたが、大震災が起こって以来、それどころではなくなりました。それでも、国際スケート連盟のホームページで成り行きを見守っていましたが、正直に言えば、国際スケート連盟は自分達のビジネスにしか興味がないのだなと感じてしまい、今は世界選手権自体への興味が失せてしまっています。

The skaters are working hard and getting ready for the Championships, so I hope I'll have a feeling of figure skating by the end of next month.
選手達は一生懸命準備しているのだから、私も来月の下旬には、フィギュアスケートを楽しめる気分になっていられれば良いなと思います。
Posted by Kinakinw | 14:21 | Comment [0] | TrackBack [0] | Figure Skating
24 2011


My sister and I visited my cousin in Yokohama yesterday, and then, on the way home, we made a short visit to Haneda International Airport being motivated by its international terminal that was completed in October 2010.
昨日、妹と横浜に住む従兄弟を訪ねた帰りに、昨年10月に開業した羽田空港国際線ターミナルに立ち寄ってみました。

Though main international airport is Narita airport that is about 60 km away from an inner urban area, now 18 airlines operate international flights arriving and departing at Haneda. American Airlines and Delta Air Lines have just started to operate flights to New York and Detroit, respectively, since last month. I can get to it within 40 minutes from home, so I'd like to use this neighboring airport next time if there is an appropriate fright.
主要な国際空港はやはり成田空港ですが、ここ羽田にも18のエララインが乗り入れています。アメリカンとデルタは、それぞれニューヨーク便とデトロイト便を先月就航させたばかり。羽田は我が家からドアツードアで40分弱なので、都合の良い便があれば次回は利用してみたいと思います。

What I wanted to see was an area called Edo Komichi (江戸小路) , a life-size re-creation of a street from the Edo period (1603-1868) that contains restaurants and shops, on its fourth floor. There are shops selling Japanese-inspired nifty gadgets other than practical items, so it's a perfect place to get souvenirs before a flight.
今回見たかったのは商業ゾーンの江戸小路(古い話題ですみません)。江戸の街並みを再現した空間に、ショップやレストランなどが入っています。センスの良い和小物を売る店もあって、出発前にお土産を調達するのにちょうど良いと思います。




Anyway, there weren't much people there.
I think this isn't only because number of flights is limited, but also because many Japanese refrain voluntarily from overseas traveling at this time and there are few foreign tourists.
それはそうと、ターミナルは閑散としていました。
便数が限られていることもあるのでしょうが、やはりこの時期、海外旅行を自粛する日本人が多く、また海外からの旅行者がほとんどいないことが影響しているのでしょう。

I hope someday the terminal will be crowded with tourists again in the near future.
近い将来、このターミナルが再びにぎわう日が来れば良いなと思います。
Posted by Kinakinw | 11:06 | Comment [0] | TrackBack [0] | Tokyo Life
22 2011


Yesterday (March 21,2011) I attended a wedding held at Kandamyoujin (神田明神, a Shinto shrine located in Chiyoda, Tokyo, Japan). The bride and groom are alumni of my university and graduate school.
昨日(3.21, 2011)は神田明神で行われた友人の結婚式に出席しました。新郎、新婦とも大学、大学院の同窓生。

They discussed whether to have the wedding as scheduled or not until the last minute. It's in the immediate aftermath of the great earthquake and tsunami, which are still destabilizing our country. That was understandable because though the aftershock activity has settled down, it might not be a good timing to invite people from various regions in Japan unfavorable timing to get the people together.
彼らは予定通りに式を挙げるかどうか、直前まで迷ったそうです。震災直後、国を揺るがす様々な問題が残る中です。余震は落ち着いてきたとは言え、各地から人を招くのにふさわしい時期なのか、悩むところでしょう。

However, I was glad they have it.
Especially in a time like this, I was happy that I could celebrate the beginning of their new life.
それでも、結婚式をしてもらって良かった。
こんな時だからこそ、新たな門出をお祝いできることがとても嬉しかった。

An attendance, a native of Iwate Prefecture, said it was delightful to be able to gather for the celebration and now that we gathered, we had to enjoy ourselves.
岩手出身の列席者の同窓生が、「皆でお祝いに集まれる、という事が素晴らしい。集まったからには、私達もちゃんと楽しみましょう」と言っていました。

I felt the same way and enjoyed the marriage ceremony and subsequent party.
私も全く同感。そして本殿での挙式、その後の披露宴を楽しみました!

Kandamyoujin that has a history of nearly 1,300 years was the tutelary god of Edo (the former name of Tokyo) during Edo period (1603 – 1868), and now it's the protectorate god of Chiyoda area.
1,300年近い歴史のある神田明神は、江戸の鎮守だったそうです。

During the Shinto-style wedding, I asked Kandamyoujin to protect not only Tokyo but also the whole country.
お式の祝詞を聞きながら、東京だけでなく日本も守ってくれるようお願いしてきました。
Posted by Kinakinw | 18:50 | Comment [0] | TrackBack [0] | Tokyo Life
20 2011
On March 20,2011, it was such a beautiful sunny day in Tokyo.
Now is in the middle of Higan (お彼岸, a week-long Buddhist ceremony in two periods of seven days with the middle day falling on the spring or autumn equinox). My town in which there are many temples was full with people visiting their ancestral graves. That was a common Higan day even if transients (foreign residents) and sightseers disappear or not.
2011年3月20日(日)、東京はうららかな一日でした。
寺の多い麻布は、お彼岸のお墓参りの人々で賑わいました。外国人住民や観光客の方々がいてもいなくても、いつものお彼岸です。

Our family grave is one of temples in Azabu, and my sister and I visited it with my aunts and cousin and then had lunch at a well-established soba noodle shop, Sarashina horii, on the way home.
我が家のお墓も麻布にあり、今日は親類と一緒にお墓参りに行き、その帰りに更科堀井で蕎麦を食べて来ました。



I ordered thick-sliced soba (buckwheat noodle), but I recommend regular one….
「太切り蕎麦」なるものを頼んでみましたが…、普通の蕎麦をオススメします。

Walking through my hometown, I noticed something.
Locals live a decent life without making a fuss: getting to a supermarket as usual, going about business as usual, taking a dog for a walk as usual.
Locals, including me, communicate with each other more closely than ever before. We cheerfully say hello to each other and catch up on each other's news after the earthquake on a street corner.
近所を歩いていて気付いたことがあります。
地元の人々はとても堂々と、普段どおりに買物に行き、仕事をし、犬の散歩をし、普通の生活を送っています。そして、互いに明るく挨拶を交わし、立ち止まって地震以降の近況報告をし合うなど、今まで以上に親密なコミュニケーションをとっています。

In the unexpected way, I come as a fresh reminder that after all, people forming Azabu called a "fashionable town" ARE NOT some residents who scrambled to escape or fashionable customers at fashionable restaurants but locals who are everyday people.
"都会のおしゃれな街"などと呼ばれる麻布を形作っているのは、慌てて逃げ出した人々でも、おしゃれな飲食店を訪れるカッコいいお客さん達でもなく、やっぱりごくごく平凡な地元民なのだなと思わぬ機会に再認識させられています。
Posted by Kinakinw | 20:56 | Comment [0] | TrackBack [0] | Tokyo Life
18 2011

What I bought today

Today, a full week after the Great Tohoku-Kanto Earthquake (The 2011 off the Pacific coast of Tohoku Eart), I'm taking another voluntary furlough day.
地震から一週間。今日も自主的に自宅待機中です。

I went to the post office in Azabu-juban around noon and found that foreign residents, mainly Caucasian people, disappeared almost entirely. Usually, two or three out of ten of people on the street here in Azabu are foreigners. I think they've got out of the city or become a shut-in. Given that they live in the distant foreign country, I won't be surprised if they provoked these excessive responses to the critical incident, the nuclear accident in Fukushima.
昼頃麻布十番の郵便局に出掛けたのですが、普段だと街を歩く人の2、3割を占める外国の方々(主には欧米人)がすっかりいなくなっていました。東京を脱出されたのか、家に閉じこもっておられるのか。遠い異国にいらっしゃるということを考えれば、福島原発事故への過剰反応もわからなくはありません。

Meanwhile, I'm trying to keep my feet firmly on the ground for long-term support. I go about my day and will restart working at my own pace early in the new week.
一方私は、しっかり地に足をつけて、これから続く長い援助体制に備えようと思っています。普通に生活を送り、連休明けからは普段のペースで活動を再開します。

Last evening, I felt tears welling up when I heard warning of an unpredictable massive blackout in Kanto area, which was avoided. Then, I thought of my grandfather, father, and relatives who brawnily went through wartime as common citizens in Tokyo.
昨日の夕方、関東地区に予測不可能な大規模停電の警告が出された時は、涙がこみ上げて来ました。そして、東京の一般市民として戦時下を逞しく生き抜いた祖父や父、親族達のことを考えました。

I think I had a nervous breakdown due to the chain of extraordinary happenings. At first, I have to improve my mental state because people who did not suffer damage from the earthquake, tsunami and nuclear accident should carry on this country.
異常事態の連続で、私の神経もそうとう参っていたようです。まず、自分の気持ちを立て直さないといけませんね。この国をまわしていくのは、被害を受けなかった者達なのですから。

------------------------------------------------------------------

避難所にいる皆様、救援活動をしている皆様、
東電の現場の皆様、自衛隊・消防・警察、福島原発で作業につかれている全ての皆様に
私の元気玉をいっぱい送ります!

被災地域以外の関東・静岡・山梨・新潟・東北の皆さんへ
作戦名:ロビンソン
ライトオフ!
Posted by Kinakinw | 16:51 | Comment [0] | TrackBack [0] | Tokyo Life
17 2011
It's a cold night, and the snow is falling thick and fast in afflicted areas.
My house is also cold because we don't turn on the heat for saving on electricity. Now, All nuclear plants Tokyo Electric Power Company (TEPCO) has carried out a planned power outage, few-hour rolling blackouts in rotation by regional blocks, in the Kanto area except the main part of Tokyo due to nuclear plants shutdown.
被災地には雪が降る寒い夜。我が家も節電のため暖房をつけておらず、冷え込んでいます。

My district, Azabu, isn't a geographical area of the outage, and we have a gas heater, too. However, we don't feel like using them thinking about a great number of people spending freezing night in shelters, engaging in sleepless supportive activities and desperately coping with the nuclear accident in Fukushima. My sister and I wear down jackets, gather in the living room and spending time with the minimum light.
私の住む麻布は計画停電の対象地域ではなく、またガスストーブもあるのですが、避難所で寒い夜を過ごしている被災者の方々、不眠不休で救援活動を行っている方々、福島原発で決死の作業をなさっている方々のことを考えると、とても暖房をつける気分にはなれません。ダウンジャケットを着込んで、妹とリビングで過ごしています。

Since the disaster of earthquake and tsunami happened, I've felt as if I relive the experiences of victims, beyond sympathy. I'm there for them and their hearts loaded down with grief. I inwardly hug each one of them on TV. I surprise how deeply I have a deep sense of empathy for them.
Then, I have been doing a lot of thinking about subsequent abnormal occurrences and people involved in them.
被災者の方々のことはとても他人事とは思えず、震災以来彼らと共に悲劇を追体験しているような感じです。テレビに映る被災者のお1人お1人を心の中で抱きしめて、彼等の悲しみに寄り添っています。あまりにも深く共感してしまうことに自分でも驚いています。
それから、震災をきっかけに起こった様々な事態、人々についていろいろ考えさせられています。

I think the hardships put us to the test.
この苦難において、我々は人間性を試されているのだと思います。



Who really needs gas now?



Who really needs food now?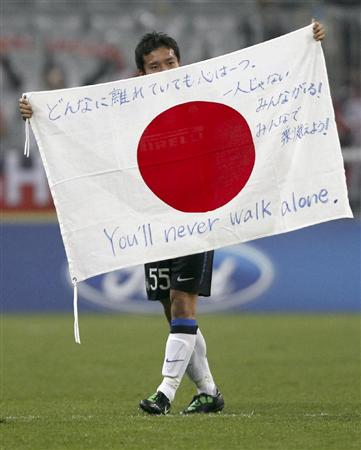 Posted by Kinakinw | 03:45 | Comment [0] | TrackBack [0] | Tokyo Life
15 2011
Though I've written all posts only in English since I started this blog about a year ago, I'm going to write in both English and Japanese for a while.
このブログを始めて1年。英語のみで書いてきましたが、しばらくの間、英語と日本語両方で書きたいと思います。改めて、皆さんこんにちは。Kinakinwです。

On the 5th day from the Great Tohoku-Kanto Earthquake (The 2011 off the Pacific coast of Tohoku Earthquake), Tokyo is seemingly-peaceful. I found that magnolia, camellia and a precocious cherry tree have pretty blooms on the way home from a station that I went to to see my friend off (the friend stayed in my house because of cancellation of train services).
Spring is come.
地震から5日目の東京は一見穏やかです。帰宅困難者になって我が家に泊まった友人を駅まで見送った帰り道に、木蓮や椿、早咲きの桜が綺麗に咲いていました。春なのですね。




When I was in the warm sunshine, I had fleeting thought that it doesn't seem like reality we are confronted with these big, huge, incredible hardships here. However, returning to my home, news updates about Fukushima nuclear plant dragged me back to the bitter reality, at once.
暖かい日差しを浴びていると、全ての事が夢なのではないかと、ふと思ってしまいます。でも、家に帰れば原発の続報であっという間に厳しい現実に引き戻されます。

I deeply and profoundly feel for residents living near the accident site.
At the same time, I'M TERRIBLY SORRY, from the bottom of my heart, to have had imposed this unreasonable risk, which is also life-threatening, on them.
福島原発周辺にお住まいの方々に対しては、心から深く気の毒に思うと共に、命に関わる不当なリスクを押し付けていることを心の底から申し訳なく思っています。

Now you may know, electricity produced from the plant was used in Kanto region.
I wonder how many people living in the Tokyo metropolitan area had ever thought of Fukushima nuclear plant that supported our comfortable life, in some cases, unnecessarily highlife.
I knew of the plant, but I'm ashamed to say that I HAD NEVER been aware of that. However, now I leave people in Fukushima, victims of the earthquake and tsunami, worse off of my life.
福島原発で作られた電気が関東地方で使われていたことを、今は皆さんご存知だと思います。
それでは、どの位の首都圏住民が、我々の快適な暮らし、時には不必要な程ぜいたくな生活を支えていた福島原発のことを考えたことがあったでしょうか。私自身は、恥ずかしながら存在を知っていただけで、考えたこともありませんでした。それなのに今、地震と津波の被害を受けた福島の方々に、私の生活の尻拭いまでさせています。

I'm at a loss for words for my irresponsibility and indifference.
私はそれまでの自分の無責任と無関心に対し、深く恥じ入り、言葉もありません。

I'm not trying to discuss pros and cons of nuclear power generation and the responsibilities of the business owner (Tokyo Electric Power Company), the government and relevant ministries and agencies in this post.
このポストで原発の是非や、東電や政府、関係省庁の責任問題を議論するつもりはありません。

For now, I pray for that all reactors will be cooled with minimum damage.
I also pay tribute to all the people at the scene.
Hang in there!
今はただ、全ての炉が最小限の被害で冷温停止することを祈っています。
現場で作業に当たられている方々に敬意を表します。
がんばって欲しいです。



Posted by Kinakinw | 20:35 | Comment [0] | TrackBack [0] | Tokyo Life
12 2011
I stayed at home yesterday, as I had a cold.
When horizontal oscillation started, become bigger on some level and lasted longer than expected, I thought a major earthquake struck faraway place. Many Japanese know by experiences that if there are big succussatory movements, a hypocenter is close. I turned on TV and since then stared at the TV screen for over six hours.

The most destructive shaking here in Azabu, Tokyo was smaller than that I experienced before, but it was simply extraordinary that after the first one, earthquakes, which were slightly smaller, continuously struck. I'd never been in a situation like that. Several tens of seconds after live footages of aftershocks from a local TV station, my house started shaking. That situation lasted few hours. It was so extraordinary.




Maybe most of you've already known that.
The strongest earthquake ever recorded in Japan, The 2011 off the Pacific coast of Tohoku Earthquake (8.8-magnitude earthquake: the epicenter was Sanriku, offshore seabed of Miyagi and Iwate Prefectures) rocked the Tohoku region coast yesterday. Subsequent aftershocks seemed unusual: Along with Japan trench (crustal plate boundary), the epicenters of subsequent earthquakes (around 7-magnitudes) went southward. Each aftershock could be called "a major earthquake."

The death toll is likely to surpass 1,000, which I'd hate to think.
Major cause of the death wasn't earthquakes itself but the major tsunami waves of a once-in-a-century 5-to-10-meter scale. I was shocked to watch live footages from a media's helicopter. The tsunami wave came with debris and engulfed fields, houses and cars. That occurred in Natori City located in the south of Sendai City, where one of my cousins lives (the cousin and her house is OK).




As a citizen of this quake-prone country, I'd been prepared for such a catastrophe on the TV, but the overall toll is way beyond my preparation. The tsunami attacked expanse of the Pacific coast of northern Japan's main island. What I saw on the TV was a small fraction of the real figure. Not negligible cities along the coast literally vanished.

I'm at a loss for words not because of the shock or fear, but because of sympathy for afflicted and killed people.

I don't like thinking of "It's a shame that I can't do anything against something."
Yes, we can do many things.
At the beginning, I've been saving on electricity at home, not make a non-emergency phone call, not get into a panic, stayed home and donated a small sum of money.

Effects of the earthquakes have now widened in various ways.



Posted by Kinakinw | 19:05 | Comment [0] | TrackBack [0] | Tokyo Life
09 2011
My friend and I visited Bessho Onsen (別所温泉, Bessho hot spring resort) at the end of February.

It's one of the oldest hot spring resorts in Nagano Prefecture, which appears in Makura no Soshi (枕草子, The Pillow Book written during the 990s and early 11th century). It's in Ueda City, and it takes about 2 hours from Tokyo Station (about 90 minutes by Nagano Shinkansen and 25 minutes by Ueda Dentetsu Bessho line).



Open 6:00 – 22:00 except the first and third Thursday, 150yen per person

The resort has had a reputation for spring quality (Simple sulfur spring) for a long time, and some earliest springs are still used for communal bathhouses in the village. The picture above shows one of the bathhouses, Taishi-yu (大師湯) located in the central part of the resort area.

All customers at Taishi-yu except us were locals. I often visit communal bathhouses in hot spring resorts and sometimes make an effort to be respectful to locals because of a clubby atmosphere. But they were friendly, so we could relax and enjoyed the water. When I left, the front desk person, an elderly man, stuck his chest out in a proud manner and said, "Our water is great, isn't it? We pour it directly into the bath. It's 100% fresh hot spring water." Well, the most famous bathhouse in Bessho Onsen recycles water. He meant that. When I told him I knew that, so I chose Taishi-yu, he nodded in satisfied fashion.




Bessho Onsen has been developed by the help of Kitamuki Kannon (北向観音, a temple of Tendai founded in 8th-9th century). Kitamuki literally means facing North, and its hall is facing North for real, which is a rare construction style for a sacred hall. According to Bessho Onsen Tourism Association, it is said that if people visit Zenkoji Temple (善光寺, one of the most famous temples in Japan located in Nagano City) which faces south, to pray for their future and happiness after death, and do not pray for the present by visiting the north-facing hall, their devotions will be unbalanced.

Because of people visiting Kitamuki Kannon (it's rather minor) along with the famous Zenkoji Temple, there is an endless line of visitors to the resort.



Chouzu (手水, the water that purifies hands before visiting a shrine or temple) is the hot spring water!

There are traditional Japanese inns with atmosphere in the resort. We stayed in Uematsu-ya (上松屋旅館) founded in 1869. The rebuilt building doesn't have a traditional atmosphere, but the water is really great!



Indeed, in Japan there are excellent hot spring resorts as abundant as stars.



Posted by Kinakinw | 01:14 | Comment [0] | TrackBack [0] | Travel & Hot Spring
06 2011
I fell right asleep after transferring to a two-car local train at Ueda Station (上田駅, in Nagano Prefecture) last weekend. Then, after how long time I don't know, a soothing chorus woke me up.
I took a look at the back car where the singing voice came from and found this scene.




Until the train arrived at the terminal, Bessho Onsen Station (別所温泉駅, Bessho Hot Spring Station), the people who appeared to be members of a tour group sang golden oldies in the Showa Period (1926 – 1989) to the accompaniment of a harmonica a man in white uniform played.

I didn't know that but, the man, Haruhara Sadayoshi (春原貞良), is the stationmaster of Ueda Station on Ueda Dentetsu Bessho line (上田電鉄別所線) and well known as the "harmonica stationmaster." According to a local newspaper, he sometimes plays it in the train and on the platform since 2006. His harmonica and chorus of passengers have gained popularity, and now there are tours including this chorus train. I came across one of them that day in the course of my trip.




Participating tourists in my parent's generation seemed happy and sang songs of their youth. I was caught in a timeslip to Showa for a while in the train running through idyllic towns, and I thought if my parents were still alive, they could enjoy such a tour, too.



Posted by Kinakinw | 16:13 | Comment [0] | TrackBack [0] | Travel & Hot Spring
03 2011
March 3rd is Hina-matsuri (ひな祭, Doll Festival Day or Girls' Day), the traditional Japanese festival expressing the hope that girls will grow up healthy.



Full set of ornaments including dolls representing the emperor, empress and their servants, and miniature furniture

In the Heian Period (794 - 1192), people used to float dolls down the river to wash away bad luck. Then, in the Muromachi Period (1338 - 1573), wealthy families started to displayed the dolls. Later, in the Edo Period (1603 - 1868), the celebration spread among ordinary people.

Although fewer people display the full set of ornaments in recent days, most families with girls celebrate the day.

My sister and I had festival meals.



Chirashi sushi (ちらし寿司), vinegared rice with thin strips of egg, pieces of raw fish, vegetables arranged on top



Posted by Kinakinw | 23:20 | Comment [0] | TrackBack [0] | Cultural Issue (Japan)
01 2011
Few weeks ago, I had a sudden desire to go to the circus, not Cirque du Soleil but a traditional one. I wish I could go to Japanese one. Do you know that there are only two, Kinoshita (木下大サーカス) and Pop (ポップサーカス) in Japan? Unfortunately, Both of them are performing in a local city now.



One of horses in the feat of horsemanship (ジギト, 曲馬) of the circus

I recognized an ad of Russian circus on the train in recent days, so I took a look at the Web and found Nikulin Circus (ニクーリンサーカス, The Moscow Nikulin circus on the Zwetnoi boulevard), which is being held at Tokyo Dome City (東京ドームシティ), an extensive entertainment city located in front of Suidoubashi Station.



Nikulin Circus, from February 11th through March 21st at Tokyo Dome City
Premium View (arena): 9,000yen, Standard View (S class): 6,000yen, Top Level View (A class, day-of-performance tickets): 3,000yen

I had a lot of fun! With 15 minutes of the interval between first and second acts, I enjoyed a two-hour spectacular show: acrobats, clowns, jugglers, the bear show, the flying trapeze, the tightrope walking, the dog show, the feat of horsemanship and so on. We could see the ring very well from A class seats. It was so nice that we could savor the superb entertainers for only 3,000yen! It was also a good refreshing change.



I liked the feat of horsemanship the most.




It was my second time to go to the circus as long as I can remember, and the first one was Bolshoi Circus (ボリショイサーカス, The Great Moscow Circus on Vernadsky Avenue). The Bolshoi is/was held somewhere in Japan every year and quite familiar, but I heard Nikulin Circus (it named for Yuri Nikulin 1921 – 1997, a well-known Soviet and Russian actor and clown) for the first time.

Now, I went to the two major circuses in Moscow.
I should go to Japanese circuses next time.



Posted by Kinakinw | 11:50 | Comment [0] | TrackBack [0] | Tokyo Life