-・- From My Everyday Life to Japanese Culture -・- Why don't you see the real Japan, not the typical foreigners' version.
-- --
上記の広告は1ヶ月以上更新のないブログに表示されています。
新しい記事を書く事で広告が消せます。
Posted by Kinakinw | --:-- | Comment [0] | TrackBack [0] | スポンサー広告
25 2010
A aim of the side trip was watching "Ukai (鵜飼, cormorant fishing)" on the Nagara River (長良川) in Gifu Prefecture (岐阜県), which has a history of 1,300 years.

Ukai is an ancient fishing method catching "ayu (鮎, sweet fish, small Japanese trout)" by manipulating seabirds called "u (鵜, cormorants)". Now, we can watch Ukai in 13 places across the country, and the one on the Nagawa River is performed by six "Usho (鵜匠, cormorant fishing master)", which is the largest number among the places.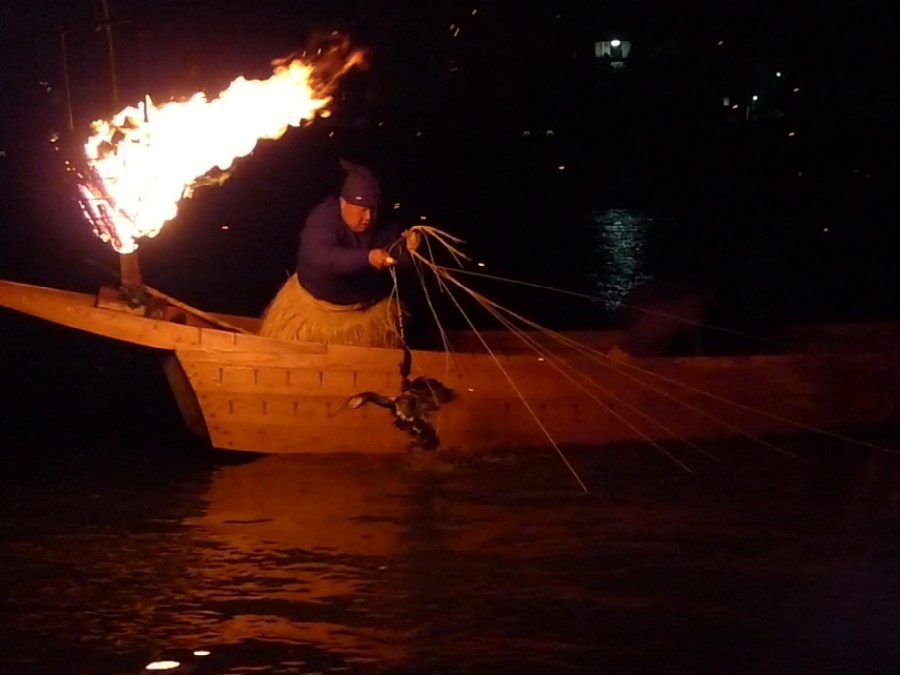 The fishing master dressed in ancient costume manipulates 10-12 wild sea cormorants to catch sweet fishes.

"Ubune (鵜舟, an old-fashioned wooden houseboat for Ukai)" carried the master holding leashes attached to the necks of flocks of cormorants. He gave verbal orders to their birds, who dive, one after another, and come back to give their catch of sweet fishes to their master.

Ukai is performed every night between May 11th and October 15th except the day of the harvest moon and in heavy rain.



We can watch it from a sightseeing boat.




Ukai closes with 6 boats sailing side by side to corner the small trout into the shallows, which is called "sougarami (総がらみ)".



For cormorants, it's time to eat after the fishing.

I was deeply impressed by its beauty and fantastic sights.
You must go and see it!


---
The 6 cormorant fishing masters belong to a national agency (the Imperial Household Agency), and an important duty is to offer sweet fishes to the Emperor.
The 6 houseboats are actually used for Ukai.
On the following day, I visited the residence area of the masters near the river and stopped at a coffee shop owned by one of them where I could observe cormorants up close in the courtyard.
Bamboo basket for carrying cormorants Firewood, leashes, and a grass skirt
The perfect teamwork of men and cormorant is a result of the day-to-day cohabitation. They virtually live together, even when they are not fishing.
The owner, Junji Yamashita (山下純司) said that his cormorants are allowed to roam free in the courtyard, but they never fly away.

スポンサーサイト
Posted by Kinakinw | 16:04 | Comment [0] | TrackBack [0] | Travel & Hot Spring