-・- From My Everyday Life to Japanese Culture -・- Why don't you see the real Japan, not the typical foreigners' version.
-- --
上記の広告は1ヶ月以上更新のないブログに表示されています。
新しい記事を書く事で広告が消せます。
Posted by Kinakinw | --:-- | Comment [0] | TrackBack [0] | スポンサー広告
30 2010
Japanese team lost in penalty kicks, and then my pulse-pounding World Cup was over.
I'm going to sit back and enjoy the remaining games.

This Japanese national team was indeed fun to watch.
I think the players also enjoyed the hard battles.

Our boys did not challenge their opposing teams but played the games. They experienced countless games since they were children. Though the World Cup was a special competition, I felt the matches in South Africa were an extension of their usual ones.

It was important that we knew our team was capable of advancing to the second round. As Okada (Japan's coach) said, if individual techniques weren't better than rivals, we could compete.

We have to go to the next step.
I hope if our team will win over any team in a match of the future World Cup, no one would call it "a stunning upset".


Thanks boys!
Thanks Okada!



Posted by Kinakinw | 05:30 | Comment [0] | TrackBack [0] | Tokyo Life
29 2010
I found my name on this blackboard at the nearest subway station to my working place the other day.
The message read: "Dear *****, It's very hot today!"
"*****" was my family name that is not really common….




The board called Dengon-ban (伝言板) is not a communication board, but it's to leave a message for a person whom you are meeting.

Well, I think some of you may need further explanation about the situation.

In general, a station is a popular meeting spot in the Japanese larger cities that have extensive train and subway networks. In 2010, if you are meeting a person who's late at a station, you can call him or her on the mobile phone and find out how long you have to wait. Then, what would you do if you were in the same situation in 1990? You called the home of the person from a pay phone, but nobody answered. How long could you wait?

That's when the message board really comes into play: you can chalk a message on the board in vertical line -"7:30 p.m. I go on ahead. By Kinakinw."

Before the spread of cell-phones in the mid-1990's, it was a useful free service for passengers (though I've never used it). Now, few people use the boards for proper purposes, so they were taken away from most train stations. However, many subway stations still keep them.

Last year, I waited for a person for almost an hour at a train station in Yokohama. He had a mobile phone, but it was turned off. I thought there must be the reason why he was late without prior announcement, so I run into an Internet café to check e-mail when 40 minutes had past.

In the end, the word came that he arrived at the station before I opened my e-mail folder.
Why didn't he call me when his last appointment ran over?
I found out that he didn't behave with arrogance though he was my superior. His 'concept of rendezvous' was that of before the days of mobile phones.

I deeply understood why someone said he was quite a character.
I decided that I would meet him in front of the Dengon-ban next time.

XYZ


Posted by Kinakinw | 12:06 | Comment [0] | TrackBack [0] | Tokyo Life
27 2010
A little while ago, I watched a recorded broadcast of "Dream on Ice (DOI)", the ice show in Yokohama from July 25 to 27, 2010, in which Daisuke Takahashi and Mao Asada performed their new exhibition programs for the first time.

Japanese skaters seem to be at work on the upcoming season steadily.
I'm very happy to write about figure skating based on credible information again, not on the ludicrous tips grew out of the behind-the-scenes maneuvering.

Akiko Suzuki (鈴木明子)
She showed us her new SP, "Jealousy", gorgeous Tango. She was in her element. I can't wait for the season.

Kanako Murakmi (村上佳菜子)
The 15-year old world junior champion is going to take part in senior competitions from this season. Her new exhibition number is "Be Italian (from musical NINE)", and she was trying to perform mature program.

Narumi Takahashi (高橋成美) & Mervin Tran
The long-absent Japanese pair after Kawaguchi seemed to have a long way to go. Keep going!

Lambiel gracefully slid and spun on the ice with a jazzy show number.
Plushenko performed his last season exhibition program,"Malade." He put on a bit of weight. His skating was below the mark because of his leg, but anyway, he skated like a king.
They are so popular in Japan. Female audiences gave screams of delight….

Laura Lepistö's number was "Jupiter (by Holst)" arranged in contemporary style by a Japanese female musician. Is she going to use the song with Japanese lyrics for her exhibition? Maybe, it was just for Japanese audiences. Good girl.

Miki Ando (安藤美姫)
Her program was "Comin' Home Baby by Herbie Mann." She skated with a hat in her hands. This Broadway musical style program is really fan to watch.

Daisuke Takahashi (高橋大輔)
"Amélie" that Lambiel has choreographed for Daisuke was a center of attention. I already heard of the program because some of the audiences posted comments online on the first day of the show. The comments can be summarized as follows. Takahashi looked like so 'petit Lambiel' that they couldn't find his advantage over Lambiel except his shapely buttocks. Now it's a knock-off version of Lambiel, but he's going to re-create it in his own image.
I agree with them and hope the collaboration would give him a new freedom of expression.
He performed a triple axel as usual.

Mao Asada (浅田真央)
She performed her new exhibitions program, "Ballade No.1 by Chopin". I'm glad to see grown up Mao wearing a pure white costume inspired by a ballerina. She's great with Chopin.
Everyone! Delicate and lyrical Mao is back!
But, it's not just the way she used to be. She has the additional attraction of strength and elegance. She performed the music like a real ballerina.

Dance Factory

It's a pity that I cannot show you the skaters photos because I'm complying with copyright.
Please find them on other sites.
The videos of the show would be uploaded to TouTube shortly, so don't miss them!

I return thanks to Dance Factory offering the beautiful ballet dancer.


Posted by Kinakinw | 16:45 | Comment [0] | TrackBack [0] | Figure Skating
25 2010
Japan defeated Denmark and advanced to the final 16 at the 2010 World Cup this morning.




I have decided to trust the Japanese national soccer team and give them a long look since I saw a game on October 11, 1997 in Tashkent, Uzbekistan. The game made a watershed in the World Cup Asian qualifiers. The team made it a draw, and that had led to our first appearance in the 1988 World Cup in France.

At the time, the team struggled to qualify and faced a crisis situation that a coach was removed. A new coach who was unexpectedly promoted from a coaching staff position was in charge of the game.

That was Takeshi Okada(岡田 武史), current Japan's coach.

I was really excited about the first appearance, but a Danish acquaintance said snidely that the Japanese team would never win in the World Cup.

I told him, in silent exasperation, that we would beat your team within ten years.

It took a few extra years, but we did it!
I wonder if he saw the today's game.
I hope he did.



Posted by Kinakinw | 07:41 | Comment [0] | TrackBack [0] | Tokyo Life
24 2010
Finally, I bought a new compact digital camera!




Meet my new buddy, Lumix DMC-LX3, released by Panasonic in 2008.

My cousin recommended LX3 when I told him that I was looking for a compact camera that had a bright wide-angle lens because I wanted to shoot in a room without using a flash and tripod.

According to its brochure, "it has the newly developed F2.0 24mm equivalent ultra-wide-angle LEICA DC VARIO-SUMMICRON lens. The F2.0 lens is about twice as bright as the F2.8 lens. With the new F2.0 lens, the LX3 can shoot at higher shutter speeds and capture stunningly clear, sharp, blur-free images in lower lighting situation."

My Ricoh Caplio R1v (F3.3, 5-megapixel) is a good camera, but it doesn't have an image stabilizer to avoid blurring of images.
Since I had a hard time taking pictures inside Kiunkaku (a villa in Atami) last week, the copy on the brochure had remained strong in my thought.

Panasonic no longer produces LX3, and there is a rumor that the company is going to release LX4 this fall.

LX3 comes down in price now.
I had to buy it.

It's the first time to use a Leica lens though it's on a compact digital camera.
I'm excited.



Posted by Kinakinw | 02:51 | Comment [0] | TrackBack [0] | Tokyo Life
22 2010
We would find several similar tourist spots in hot spring resorts all over Japan. Typical examples are museums of glass art, orgel and trick art. The museums in the same category often have similar exhibition contents that aren't related to a town and its culture. I bet that in any glass art museum, you'll see similar René Lalique and Émile Gallé. I avoid visiting these spots.

A Harb garden in a tourist destination is another example of the cookie-cutter facility. However, I like this one, and it was a second visit




Akao Herb and Rose Garden
The garden is on a slope of a mountain about 2 km south of downtown Atami, and the whole site covers an area of 700.000? (173 acres, 211,700坪).
Visitors catch a shuttle bus to the top of the site and then walk down the slope while enjoying twelve different gardens.

The building is called Rose House that offers a tearoom with a view of the sea.



Roses are blooming between May and June.



This is why I like this place.


What a view!


If weather permits, we can see the city center beyond Atami Castle.

- FIN -



Posted by Kinakinw | 00:30 | Comment [0] | TrackBack [0] | Travel & Hot Spring
20 2010
I visited tourist spots in Atami City.




Kiunkaku (起雲閣)
The villa has a central location in the city and features a beautiful Japanese garden.
This cultural asset was known as a country house of renowned businessmen. It was first built by Shinya Uchida (内田信也, called "a shipping magnate") in 1919 and owned by Kaichiro Nezu (根津嘉一郎, called "a railroad king") from 1925 to 1944. Then, it became a luxury Japanese inn in 1947. After the inn closed in 1999, the city government owns and opens the villa to the public.

Each owner remodeled and made an extension to Kiunkaku, and the villa consists of buildings in several styles: purely Japanese, Western and contemporary architecture. On the whole, it's a fine compromise between East and West.

Among its Japanese architectural elements, I liked colored plaster walls. The ultramarine and bright red walls were modeled on those of traditional architecture in Kaga (present day Ishikawa Prefecture) in the Edo period. The walls make the room modern though it's difficult to show the atmosphere by the pictures. If I have a chance to make a Japanese room in the future, I'll borrow the idea.




As for its Western elements, stained-glass windows and roofs were beautiful.




The villa shows another side of city's character. Atami was loved by Japanese great literary figures, and many novelists stayed at Kiunkaku for writing: Youzo Yamamoto (山本有三), Naoya Shiga (志賀直哉), Junichiro Tanizaki (谷崎潤一郎), Osamu Dazai (太宰治) and Taijun Takeda (武田泰淳).



The writing on the window glass is a writer's name, a title of his novel that was written in this room and the line from the novel.

Even in modern times, a lot of cultural figures like the town.
Haruki Murakami (村上春樹, a Japanese writer and translator) wrote about Atami, "When I have spare time on a sunny day, I drive my convertible to Atami spa listening to John Mellencamp. I have lunch at one of my favorite restaurants and enjoy a leisurely soak in a hot spring bath."

He lived (lives?) in Oiso (大磯), a seaside town located between Tokyo and Atami. That should be a nice an hour drive along the coast.



Posted by Kinakinw | 15:03 | Comment [0] | TrackBack [0] | Travel & Hot Spring
19 2010
My friend and I arranged the trip in the form of a package tour, which was a good purchase. It was a 120 dollar night plan with half board including a round trip train ticket.

We stayed at a ryokan (a hot spring inn) in Izusan hot spring (伊豆山温泉), one of spas in Atami City. Izusan area lies about 2 km north of Atami spa along Route 135 by the ocean. The hot spring is famous for the fabulous view to the Sagami Bay and its wealth of hot spring water. While bustling Atami spa has a concentration of hundreds ryokans and hotels, Izusan has quiet and relaxing atmosphere.




Suiyo-tei (水葉亭)
I knew of the famous ryokan overlooking the sea. Among small-scale inns in the area, Suiyo-tei that has 79 rooms is relatively large. It was a high class and expensive ryokan in Showa Era.

A standard ten-mat room with a sitting area was assigned to us. The picture below is the nice ocean view from our room. The building shows signs of age, but the room was clean and in good condition.




There are three public spa & bathing areas in the ryokan. The main one, which has countless large hot tubs, is largest in Japan at approximately 20,000sq. ft (550坪, the left picture). The outdoor hot tub area has large tubs overlooking the sea, and there is one more spacious area. Three private baths are also available (the right picture). I stayed at many hot spring inns, and I can tell you that Suiyo-tei's spa & bath facilities are five times more than those of a ryokan in the same scale.




I have mixed feelings about the ryokan.
The scale of spa & bathing areas should be adequate both for number of guests and to maintain good hot spring water in a bathtub (fresh and clean). Suiyo-tei has seven hot springs, which is abundant. However, its spa facilities are far, far too big for a 79-room ryokan. In a large bathtub, water must be filtered and circulated for hygiene control. I confused if it was really hot spring water in the large bathtubs, no one used most of them, because it already lost spa water tastes.

I spent much time in the private bath because I heard pure hot spring water was used in the private one. The water was better than that of the public areas, but I couldn't feel rich spa water tastes.

I think the ryokan degrades its spa water to fill needless bathtubs.

If the ryokan modifies its spa facilities to fit the number of guests, I'll be able to lie in nice hot bath with brilliant hot spring water it originally has.



Posted by Kinakinw | 13:24 | Comment [0] | TrackBack [0] | Travel & Hot Spring
17 2010
Our destination of the trip was Atami City (熱海市, Atami literally means "hot ocean" in Japanese) located in about 100 kilometers southwest of Tokyo.

Oriental Riviera
Overlooking Sagami Bay (相模湾) and surrounded by mountains of Izu (伊豆) region, the city is a place of scenic beauty.




A Spa Town
Atami area is one of the best-known hot spring resorts in Japan, which includes several major spas: Atami, Izu-taga (伊豆多賀), Ajiro (網代), and Izusan (伊豆山). According to Atami Hot Spring Ryokan and Hotel Association, its history as a spa town dates back about 1,000 years. Tokugawa Ieyasu (徳川家康, 1543-1616), Japan's most famous shogun, liked to visit Atami. He was so impressed by the quality of the hot spring that he ordered barrels of water to be hauled back to Edo (present day Tokyo).




Fresh seafood from Sagami Bay is also the pleasure of visiting.
The photo shows whitebait (しらす: juvenile sardines) caught in the sea around Ajiro that is also a famous fishing town.




Atami is the most easily accessible resort from Tokyo. It takes about 50 minutes to get there by Shinkansen bullet train from Tokyo station. If you want to save transportation costs, catch a regular train. It takes just an hour and a half. Most of ryokans and hotels are within 10 minutes' drive from Atami station, and another spas in the area are conveniently located, too.

Though it's still Japan's leading spa town, it's been struggling with a hangover from the economic bubble. Especially, ryokans and hotels that expanded the scale of facilities for tour groups have faced difficult administrative times.

However, it's not always a bad thing. The good thing is that the accommodation rate has gone way down.

I used to visit the resort with my family when I was a child. Even now, I constantly stop over at spas in the area. It's quite nice!
I'd like to write about the trip in several batches.



Posted by Kinakinw | 01:23 | Comment [0] | TrackBack [0] | Travel & Hot Spring
15 2010

I'm going on an overnight trip to a nearby hot spring with my best friend.

Tokyo station is crowded with hundreds of rush hour commuters.
Everybody, Keep up the good work!

We've got two days off, so we set out on a MIND detoxification journey.



Posted by Kinakinw | 08:59 | Comment [0] | TrackBack [0] | 未分類
13 2010


This is a very common sight in front of a kindergarten nearby.
Some parents, almost always mothers, drive their children to and from the kindergarten, and others use customized "mama-chari bicycles (granny's bicycles)".

Bicycles are a popular mode of transportation in Japan. Many mothers living in Tokyo ride mama-chari bicycles with a child seat. To avoid leaving children at home, a mother goes various places everyday by the bicycle with her child on it: going to a supermarket, a laundry, a bank, a post office, and so on.

To choose the mama-chari bicycle isn't so much because of an environmental concern but efficient traveling in the center of the capital where one has trouble finding a parking place. It's an economic and intelligent conclusion. My town is known for its international community, and more foreigners have started pedaling with their children in recent years.

A bicycle with two child seats has been allowed if it meets certain conditions since the Road Traffic Law was revised in 2009. Before that, however, the indispensable transportation for mothers was accepted silently.




Azabu is a hilly town.
I'm deeply impressed when I see that a mother climbs a steep slope by the bicycle with two children on the front and the back, in addition, with several grocery sacks around her arms.

I take off my hat to mothers.



Posted by Kinakinw | 12:38 | Comment [0] | TrackBack [0] | Cultural Issue (Japan)
11 2010
The whole purpose of going to Yodobashi Camera two days ago was to get a package of "Dream Home (a house design software)".




I don't need to design a living room, but I did it to get used to the software.

It's not a good interior decoration. Especially the lighting planning is awful. I simply increased the number of downlights because I couldn't enhance the amount of light, but the room is still dim.

However, the absolute beginner of interior design and this kind of software could draw it in a matter of hours. I started drawing it two hours after opening the package and finished it within three hours.

The perspective image amateurishly expresses my interior preference – stylish, modern but warm. The fireplace, chandelier, floor lamp, grand piano and garden furniture are different in style mainly because I could use limited objects. But I think a little mismatch makes the atmosphere of the room more interesting.

The software is really easy to use and only costs 4,980 yen ($50)!



Posted by Kinakinw | 01:06 | Comment [0] | TrackBack [0] | Tokyo Life
10 2010


Yodobashi Camera (ヨドバシカメラ) opened its first camera store in Shinjuku in 1960. Now it has 20 urban-type stores selling electronic products in Japan.

I stopped at the Shinjuku store to get a computer program yesterday.

I used to go to the store frequently when I did a photo shoot. I shot on reversal films using a Nikon F4, an autofocus single lens reflex camera. I'm not saying that I was a camera maniac. I worked with a company in the photo equipment industry at that time. A person who doesn't know the products and how to use them never win a manufacture's trust, so I was trying to do it properly or sort of properly.

Times have changed.

I'm not step with a digital camera. I'm using a digital compact camera that is a hand-me-down from my friend. The camera is nice though its effective pixels and highest sensitivity are less than half compared to the current standards.

I do not blame my poor picture on the tool. However, because I'm taking a photo again for the blog, I start thinking I would like to have a new one that is high spec and compact.

I planned to test the camera I'm looking at in the store, but I couldn't because another person took it his hands all the while I was on the digital camera floor.

Well…first, I'm going to try to fully utilize my camera for a while.
I forget how to take a nice picture. |||(-_-;)|||Oh, no!



Posted by Kinakinw | 03:10 | Comment [0] | TrackBack [0] | Tokyo Life
08 2010


The cats live near my working place.

A volunteer group traps them, gets them neutered, and then returns them to their territory (TNR). After returning them, members of the group feed them, monitor them and take them to a hospital if necessary. The group also places incoming kittens and young cats for adoption. I sometimes donate money and food to the group.

In Japan, TNR and the neighborhood-cat activity are common now. Though not all cases go well, it does in this area because residents and corporations are relatively supportive of the activity.



Chow time, you guys!

How to deal with the problem of feral cats is a matter of opinion.
I always hope the cats' happiness and hope we live in harmony with them.
However, I still wonder what the happiness is for them.



Posted by Kinakinw | 02:06 | Comment [0] | TrackBack [0] | Tokyo Life
05 2010

I pass by this hydrangea every day on my way to work.


立ち止まれば 誇らしげな 梅雨告花

Stop your steps
The flowers in the rainy season
open up proudly

by Kinakinw


Haiku (俳句) is the Japanese poetic form that is the shortest in the world. It's a fixed verse consisting of 17 syllables in total, arranged in groups of 5, 7, and 5 syllables. (I didn't keep to the rule of the syllables this time) Haiku typically contain a kigo (季語: seasonal reference) and a kireji (切れ字: cutting word). While the kigo helps to suggest nature in people's imaginations, a kireji is like a spoken punctuation that marks a pause or gives emphasis to one part of the poem.

I made the Japanese version first, and then I translated it into English. According to the Haiku society of America, a haiku is a short poem that uses imagistic language to convey the essence of an experience of nature or the season intuitively linked to the human condition. Most haiku in English consist of three unrhymed lines of seventeen or fewer syllables, with the middle line longest.

If you read excellent haikus, you can actually visualize the scene and give more than a passing thought to nature and human lives. Mine is more "a photo & haiku" than a genuine haiku because the photo helps to express what I want to describe.

Nature near-at-hand is surely telling the changing seasons.
We don't have to go to special places to feel it.



Posted by Kinakinw | 23:04 | Comment [0] | TrackBack [0] | Cultural Issue (Japan)
03 2010
Hayden is my internet acquaintance. This heading is the title of his blog.
He introduced a video taken at Maho Beach located on the island of St. Martin in the Caribbean in the blog entry, "Low Flying Boeing 747" & "F-22 Vertical Takeoff" on 29th May.
The entry inspired me to write this article because I went to St. Martin the year before last and took photos of landing planes at the beach. These were really beginning to fade in my USB flash memory.




Maho Beach is famous for its unique location immediately adjacent to the Princess Juliana International Airport of St. Martin. Landing planes are so close to the people on the beach that you feel you could touch the wheels, especially when a jumbo jet aircraft like Boeing 747 is landing.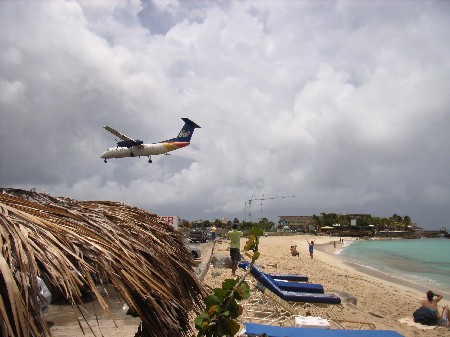 I couldn't shoot an impressive image because all planes I saw were rather small. Yet, I enjoyed watching planes for an hour or so on the beach.

At that time, I took the vacation in the Caribbean countries on the sidelines of a conference held in the east coast. I joined my friend in New York after the conference, and then we reached our final destination, Anguilla by way of St. Martin.

I have made several visits to the Caribbean Sea.
Beach resorts in Hawaii and Asia are nice, too, but it's more exciting to travel to distant places like the Caribbean islands. After all, I spend my time in the same way in any resorts - do nothing special. I go all the way to the southern islands, far away from Tokyo, just to look out at the sea and drink frozen margaritas. I love that!



Posted by Kinakinw | 11:04 | Comment [0] | TrackBack [0] | Travel & Hot Spring
01 2010
"Gyudon (牛丼: beef bowl, a bowl of rice topped with boiled beef and onions, which appears on the left hand side of the picture)" is one of Japan's most popular dishes.




This restaurant is "Matsu-ya (松屋)", one of fast-food chains for gyudon near my working place. I sometimes order takeout a small-size gyudon for lunch. The beef bowls taste good enough for the price: A regular-size gyudon is 320yen (about $3). Now it's only 280yen because of a discount campaign!

I was there yesterday and just noticed that I've never seen foreigners except eastern Asian people at the restaurant in this international city. People from around the world would like it because the taste of gyudon sauce is similar to "Sukiyaki (すき焼き)" sauce.

One reason why Matsu-ya is unpopular with foreign customers might be that they are unfamiliar with its pay-first order system using food tickets that only Matsuya employs among gyudon chains.

It's simple. You don't have to speak a single Japanese word to eat gyudon.

I explain how to order a beef bowl, though Matsu-ya has various menus.
1. Identify a restaurant as Matsu-ya by the yellow, blue and orange sign.
2. After entering, find a ticket machine near the entrance.




3. Put money in it. Choose a size of beef bowl, and push a button on the lower section.


・There are four sizes: small (lowest price), regular, large and extra-large (highest)
・Each botton shows a picture of menu.
・While the buttons for set menus (with salad, miso-soup and so on) are on the upper section, those for single items are on the lower.
・While buttons for beef bowls are red, those for pork bowls (cooked by the same instructions) are brown.
※The change doesn't tumble out right away, so you can push another button if you want to order an additional dish.
4. Sit down in an unoccupied seat and put the ticket on the counter table. A restaurants stuff would pick it up and serve a beef bowl shortly after.

At the other gyudon chains, for example "Yoshino-ya(吉野家)" and "Suki-ya (すき家)", manner of payment is the same as common restaurants. They use a menu with pictures, so don't worry if you can't read Japanese.

You should try this Japanese fast food, by all means.



Posted by Kinakinw | 08:30 | Comment [0] | TrackBack [0] | Tokyo Life