-・- From My Everyday Life to Japanese Culture -・- Why don't you see the real Japan, not the typical foreigners' version.
-- --
上記の広告は1ヶ月以上更新のないブログに表示されています。
新しい記事を書く事で広告が消せます。
Posted by Kinakinw | --:-- | Comment [0] | TrackBack [0] | スポンサー広告
30 2010


I picked up the pair of jean I bought in Florida (see "First Outing except the Venue, 2010.5.12") from a clothes-altering shop yesterday.

I always get imported jeans shortened. When I want to preserve the bottom hem of jeans exactly, I get hemmed in a specific way as follows: Cut a jean above a hem and sew the original hem back together.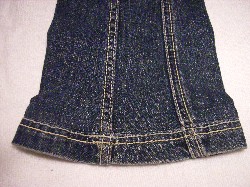 The advantage of buying jeans at prestige retailers, like an upscale department store, in Japan is that they can meet such individual needs. The picture above shows Antik Denim jeans that I bought at Mitsukoshi(三越) department store and got hemmed there in that way. You see, if the original hem is gone, it is no longer the jeans I wanted.

This time, I took it to the altering shop in which I place high confidence. Though it was first time for the owner, an old lady of class to hem up jeans in that way, she looked over the sample of altering (the Antik Denim jeans) and did it perfectly.

The price for the pair of jean was $99, and that for the hemming was $40 (4,000 yen)…. Anyway, in this case, it's far more important to keep the original design including the stitching and distressed denim on the bottom hem.



スポンサーサイト
Posted by Kinakinw | 10:00 | Comment [0] | TrackBack [0] | Tokyo Life