-・- From My Everyday Life to Japanese Culture -・- Why don't you see the real Japan, not the typical foreigners' version.
30 2010


I picked up the pair of jean I bought in Florida (see "First Outing except the Venue, 2010.5.12") from a clothes-altering shop yesterday.

I always get imported jeans shortened. When I want to preserve the bottom hem of jeans exactly, I get hemmed in a specific way as follows: Cut a jean above a hem and sew the original hem back together.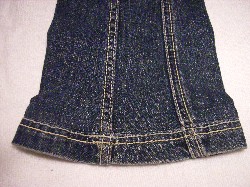 The advantage of buying jeans at prestige retailers, like an upscale department store, in Japan is that they can meet such individual needs. The picture above shows Antik Denim jeans that I bought at Mitsukoshi(三越) department store and got hemmed there in that way. You see, if the original hem is gone, it is no longer the jeans I wanted.

This time, I took it to the altering shop in which I place high confidence. Though it was first time for the owner, an old lady of class to hem up jeans in that way, she looked over the sample of altering (the Antik Denim jeans) and did it perfectly.

The price for the pair of jean was $99, and that for the hemming was $40 (4,000 yen)…. Anyway, in this case, it's far more important to keep the original design including the stitching and distressed denim on the bottom hem.



スポンサーサイト
Posted by Kinakinw | 10:00 | Comment [0] | TrackBack [0] | Tokyo Life
28 2010


It was a beautiful early summer day today – not too hot, not too cold, and not humid.
I like May and look forward to such typical days. Sadly, however, there aren't many in Tokyo anymore because of freakish weather.
Even so, I find that trees in the town are bright with new leaves.



The zelkova trees planted by the roadside are greening up.



My cherry tree (see "One's Own Cherry Tree, 2010.4.14") is fully alive in the moment.

Enjoy this early summer!
It's running out.



Posted by Kinakinw | 23:05 | Comment [0] | TrackBack [0] | Tokyo Life
26 2010
I'm in Kushiro (釧路), Hokkaido (北海道) due to the necessity of an unforeseen trip.
I dined on grilled escallops at a restaurant near the port of Kushiro.




I'm just kidding. I'm in Tokyo.
I ran into my childhood friends on the way home yesterday, and we went out for a drink together at a "izakaya (居酒屋: a bar and a restaurant combined)" recently opened in Azabujyuban (麻布十番). We had glasses of draft beer and grilled escallops, squids and slices of salmon using a tabletop barbecue grill.

This seafood BBQ izakaya named "Erakokyu (鰓呼吸: branchial respiration, weird...)" is the fifth location for a restaurant company. It seems like Erakokyu quickly gains popularity among people for its unique style of restaurant and reasonably priced menus.

I like and recommend it, but one caution is needed when you go to this izakaya.
Dress casually.
You will inevitably have a smell of roasting fish.



Posted by Kinakinw | 08:30 | Comment [0] | TrackBack [0] | Tokyo Life
25 2010


This great landmark functions as an antenna tower for radio and TV broadcasts from 1958. However, surrounded with high-rise buildings, it has become difficult for the 333-meter tower to broadcast stably. A new 634-meter antenna tower named Tokyo Sky Tree is now under construction in Sumida Ward, which will appear in 2012.

I have an attachment to Tokyo Tower.
I could see it from my house when I was a little child. My parent used to say, "Stop crying! Otherwise Tokyo Tower would be covered in a cloud." They told me that the words worked because I loved to see it. When I was in an elementary school, I used to go to the tower with my friends. At that time, elementary school children could go up to Main Observatory (the lower one) for free if we took the stairs. Furthermore, we got a notebook and pencil in appreciation for going up the stairs!

Some people proudly say, "I live in Tokyo many years, but I've never been to Tokyo Tower." Their syllogism goes something like this: All visitors to the spot are hicks; I am not a visitor of the spot; I am not a hick.
Well, Major premise of the syllogism is false. They probably don't know that many Tokyo people actually visit to the spot. Tokyo is a wide place.




Landscape with the tower is closely connected with local people's everyday life. We hope that our beloved tower will remain the national landmark after retiring from its job as the antenna tower.



Posted by Kinakinw | 08:30 | Comment [0] | TrackBack [0] | Tokyo Life
22 2010
I was born and raised in Azabu (麻布) called "yamano-te (山の手)" area.
In the previous post ("Definition of Shitamachi" , 2010.4.11), I wrote that talking with "shita-machi (下町)" people is a kind of cross-cultural experience for me. This is because that people are different between the two areas.



The photo taken from a building near Tokyo Dome covers the half of traditional yamano-te towns.

While 'yama' in yamano-te means a mountain in Japanese, 'shita' in shita-machi means the bottom or the lower part. It tells that the town of Edo (old Tokyo in the Edo era: 1603 to 1868) was topographically divided into highland and low-lying regions. In addition, these regions were roughly equivalent, respectively, to two accommodation sections: The highland region was "buke-chi (武家地)" where warriors lived, and the low-lying was "chonin-ku (町人区)" where ordinary townspeople lived.

From a historical angle, yama-no-te as former buke-chi is limited to central towns in the west part of the Imperial Palace, for example, Iidabashi (飯田橋), Ichigaya (市ヶ谷), Yotusya (四谷), Kojimachi (麹町), Nagatacho (永田町), Akasaka (赤坂) and Azabu.

In the Edo era there ware many samurai residences with large ground-floor areas in yama-no-te. After the Meiji era (1868 to 1912), national facilities, business buildings, mansion houses and embassies of Western countries were built on the sites of the residences. Then yamano-te has become center of the capital of modern Japan along with towns like Kasumigaseki (霞ヶ関: administrative district) and Marunouchi (丸の内: financial district). Broadly speaking, while local shita-machi people have tended to inherit Edo cultures of townspeople, new residents who moved in yama-no-te after Meiji era may have been strongly influenced by Japan's modernization (meant westernization).

I often hear it said that shita-machi people are humane, kind, strongly tied each other and open about their private life. In contrast, yama-no-te people are relatively individualistic, rational and keeping an arm's-length relationship with each other. Though personalities differ greatly in individuals rather than in resident areas, I feel overall differences of characteristics described above when I talk with the regular customers at my friend's place in shita-machi.



Posted by Kinakinw | 23:56 | Comment [0] | TrackBack [0] | Cultural Issue (Japan)
19 2010
If I happen to have "a manga (漫画: comics)", I read it on the subway train during commuting time, though less frequently.

I thought it's a thing of the past that Westerners are surprised to see adults reading comics in Japan. However some foreign passengers (always Caucasian businessmen) seem to be surprised when I open a manga on the train. I see… but if they know what I'm reading, it would remove the assumption that all comics are inappropriate for adults to read in public.

In present-day Japan Manga is considered one form of expression and communication, not just graphic novels.

The most of mangas l read are Manga-style essays drawn by manga artists who are also gifted as an essayist. The theme of the essay is one's experience in many cases: a journey, child rearing, life with a partner or pets, challenging something difficult or silly, and childhood and growing up.

This style essay is more advantageous than a regular essay. Insightful manga artists effectively express their ideas using a synergistic effect between drawing and witting. For example, by a combination of them the artist can convey atmosphere accurately and bring humor to pages naturally.



Manga-style essays I like

Left: "A Nice day to sit in a café (カフェびより)" by Nichiho Higuchi (ひぐちにちほ). It was written based on a real story that the artist and her sister opened a café: coffee-brewing training, bank loans, documentation and trial and error after opening the café.

Middle: "Can I do it? (できるかな)" by Rieko Saibara (西原理恵子)
The middle-aged artist, known for her unconventional behavior, drew her reckless challenges from haggling over her back tax with an officer to working as a nightclub hostess.

Right: "Non-Stop, Road to being a Bride (ノンストプおヨメ道) " by Aya Tsuge (柘植文).
This single artist depicted the circumstances of culture lessons through her all sorts of "training to be a good housewife (as a joke)": making sushi, relaxing massage, horse riding, kimono-wearing, harp playing, capoeira, and so on.



Posted by Kinakinw | 14:51 | Comment [0] | TrackBack [0] | Cultural Issue (Japan)
17 2010
Getting back to chilly Tokyo from sunny hot Florida, I have a bit of a cold.

I stayed at this hotel in Houston, which coasted less than $60 including tax. It was a good deal if there was no problem.




Meantime, I write about why I waited long for a free shuttle at George Bush Intercontinental Airport to get there. It's a bit long story, so please skip the paragraphs if you aren't interested in.

After I picked up my luggage, I called the hotel for a shuttle from the airport calling board in baggage claim area. I told a hotel woman that I was in the terminal E, and then I went outside and found that I was actually in the terminal C. When I walked back inside the building for another call, I was intercepted by a kind man who is working for an airport transfer company. He asked why I returned, listened to my story and said, "Just wait outside because all hotel shuttles stop every terminal". That was reasonable. I waited about 15 minutes, but I had second thought that I had to ring to talk about the terminal because I had a feeling that the shuttle wouldn't come.

Before I reached the calling board, the men again intercepted me. He took care of me before I could even say something. This time he called the hotel on his cell-phone for me and told a hotel staff that I was waiting in the terminal C.

When over 20 minutes had passed since his call, I was still waiting at the shuttle pick-up point. I saw all of buses from airport hotels except my hotel. I finally spoke with the hotel woman on my cell-phone (I really should have done it sooner) and was told that the vehicle coming for me WAS NOT DISPLAY THE HOTEL NAME because the hotel didn't manage the shuttle, which she DID NOT tell me on the first telephone call. She just said that she would send an airport employee shuttle. Who knows what "an airport employee shuttle" is. I just assumed that I could recognize the vehicle by the hotel name because free hotel shuttles I caught at various airports displayed it without exception.

After another 30 minutes had passed since the woman casually said that she would send something again on my second call, I made the third telephone call. When I heard that the unreliable person said the same thing repeatedly as if nothing had happened, I decided to take a taxi (I really should have done it sooner).

At any rate, I didn't see any vehicle displayed "airport employee shuttle" on the body at the pick-up point. There was a slight possibility that I missed it in the first half of waiting, but in the last half there was not.

The lessons of this chain of incidents are that take nothing for granted and that when things aren't going well, don't expect someone, make a fast decision and do what you can do.

If you stay at an airport hotel in Houston, select one of listed hotels below that frequently send shuttles.
Hilton, Marriott, Courtyard by Marriott, Holiday Inn, Holiday Inn Express, Best Western and Baymont Inn



Posted by Kinakinw | 01:51 | Comment [0] | TrackBack [0] | Travel & Hot Spring
13 2010
Wow! I got out of Florida.




It was a nice and cozy drive to the airport.




I like this airport. It's clean, spacious and not crowded.
I'm not going to participate in the conference from next year, so I won't get here for years, maybe never again.




I arrived in Houston.
It was a nice cloudy day! I got fed up with sunshine….




Shortly after sunset, the sky was really beautiful yesterday.
I was waiting for a free shuttle bus to "a budget hotel" here…nearly an hour and a half.
I refrain from telling you about the chain of incidents, which increased the waiting time. (When I return to Japan, I want to blog about that.)

Anyway, I'm going to get on the flight home within 10 hours!



Posted by Kinakinw | 16:00 | Comment [0] | TrackBack [0] | Travel & Hot Spring
12 2010


This is the last night in Florida.
I planed to have a light late evening meal and bought a sushi roll, edamame and salad to go at Club Sushi (see the last post: the sushi restaurant with a weird Torii).

A sharp-eyed person would wonder where is a sushi roll.
The deep-fried food in the picture IS THE SUSHI ROLL named "Club Sushi Roll".

I only read the first line of description at the menu and assumed it was Philadelphia roll. I was watching a Mexican guy amateurishly making that at the sushi bar during waiting. When he brought my Philadelphia roll (Yeah, it was until that time) to the kitchen, I wondered why. When he returned with the deep-fried food, I grabbed the menu, read the second line and found words: roll in breadcrumbs and deep-fry until golden brown.

How did it taste?
NO WAY.

I removed all deep fry batter and ate warm sushi.

Is a deep-fried sushi roll common in the US?



Posted by Kinakinw | 13:02 | Comment [0] | TrackBack [0] | Travel & Hot Spring
12 2010
As I said, I went to a shopping mall yesterday.

The mall is within a mile from the hotel. I could walk down there because it was occasionally cloudy. (This town is always ridiculously sunny. The daylong sunshine is almost murderous.)

I introduce few things I found along the way.




Unacceptable blue Torii (鳥居: a Shinto shrine gate) at the entrance of a sushi restaurant
Maybe, it's the Florida style. This façade tells that an owner of the restaurant is not Japanese or not religious Japanese. A vermilion-lacquered Torii (most common) would ward off evil spirits and marks the transition from the sacred to the profane, but this one….




Three wise monkeys: See no evil, hear no evil, and speak no evil.
I never thought I'd see you guys here!
It seems that garden décor items in the motif of the monkeys are sort of popular in the US.




I watched a telecast of women's softball at a sports bar. If it's local cable television broadcasting, no company plans to broadcast this minor sport in Japan. It shows a high interest in sports, and I think more people support softball players in the US than Japan.




Shopping is therapeutic for women whether in a high-end store or not.




I bought these for myself, and they costed me about as much as two-night stay at a hotel in which I was thinking to move yesterday!



Posted by Kinakinw | 01:24 | Comment [0] | TrackBack [0] | Travel & Hot Spring
11 2010
The conference is going on, but my part is over.
I'm going to stay here two more days to hear someone's presentation on Wednesday.

The venue is a first-class hotel in the town.




Of course, I'm staying at a budget hotel.




Troubles are inseparable from this kind of hotels.
I suddenly couldn't get connected to the Internet yesterday afternoon in my room, and that state lasted until few hours ago (10 am on the next day). I roughly figured out what was behind it at the beginning. The wireless network of the hotel didn't assign IP address to my notebook computer, so there should be a problem with a configuration of a modem or router (I was right). I refrain from telling you details about a course of the incident, but it was stressful for me to make hotel stuffs worked on the problem.

Until a while ago, I was thinking to escape from this hotel if an accommodation fee, which I paid in advance, won't be returned.

So, I'll go to a shopping mall nearby this afternoon and buy something to forget it all because I may have paid the extra hotel fee. (^▽^)/



Posted by Kinakinw | 01:15 | Comment [0] | TrackBack [0] | Travel & Hot Spring
08 2010
I got off George Bush International Airport.
It's sunny and hot.
I'm already tired.
What is worse, I have to wait five hours to get aboard another plane.

It's just a traveler's journal!



Posted by Kinakinw | 06:17 | Comment [0] | TrackBack [0] | Travel & Hot Spring
07 2010


After Golden Week holidays (long holiday season starts in the end of April and continues until the 5th of May), Narita Airport is less crowded.

I'm going to the US to attend a conference.
I travel alone and have time to post a blog there!



Posted by Kinakinw | 14:00 | Comment [0] | TrackBack [0] | Travel & Hot Spring
06 2010


At 8:15 a.m. on Aug. 6, 1945, the plane dropped the world's first atomic bom on the city of Hiroshima, which killed more than 140 thousand people.

Two-year-old "Sadako Sasaki(佐々木禎子)" was at home, 2 kilometers from the epicenter, at the time of the explosion. She diagnosed with leukemic disease in February 1955. Sadako who wished to recover started to fold paper cranes in the belief that if she made 1,000 cranes, she could get her wish. The twelve-year-old girl died of atomic bomb sickness in November 1955. She folded 644 paper cranes, and her friends did 356 after her death. The cranes were laid to rest in the cemetery with Sadako. Kids Peace Station (Hiroshima Peace Site in English)

Now, "thousand cranes (千羽鶴)" is the symbol of remembrance and prayer for peace in Hiroshima.

In Japan, people customarily make 1,000 folded cranes and link them together by thread in order to give them to a sick person, making a wish that the sickness will be cured soon. However, few people actually have the opportunity to make them. For me, it's a first time to do it.

My best friend's trip created this opportunity. She and her mom (see the article, Definition of Shitamachi) went to Hiroshima last month, and at that time we (my friend, mom, the regulars at her place and I) made 200 folded cranes to place them on the Hiroshima Peace Memorial Tablet.

When my friend saw countless thousands of paper cranes in the Memorial Park, she was shamefaced because she only brought 200. Then, we decided to make proper "thousand cranes" this time.

Human life must be equally precious, regardless of race and nationality.
Nobody deserves to be killed.



Posted by Kinakinw | 01:00 | Comment [0] | TrackBack [0] | Tokyo Life
05 2010


My former co-workers and I had a party at one of their house yesterday, and we had a great time.

We seasonally have the party at that house or my house, and in either case, a host is another male member who truly loves cooking. It's like saying that he gives a dinner party at someone's home. Don't get me wrong. We always like and enjoy his party.

Some Westerners would wonder why he doesn't do it at his home.
The way I see it, he wants to concentrate on cooking and have fun with an old and trusted. We have no personal acquaintance with his family, so if he does it at home, he has to be attentive to both his family and us.

In Europe and the US, this party style would be absolutely unacceptable to wives. Well, it's basically the same in Japan. His case is an exception.

Almost everyday he makes meals including lunch boxes for family. I think he prepared a delicious dinner for them before leaving home yesterday.
It's the product of constant effort that he can sometimes throw this party.



Posted by Kinakinw | 03:12 | Comment [0] | TrackBack [0] | Tokyo Life
03 2010

Photo by Hoshino

I don't much care for karaoke, but a few times a year I desperately want to sing.
Yesterday was just the day for singing.

I asked my friends come to a karaoke place in Roppongi (六本木, my nearest entertainment district in Minato Ward) and enjoyed singing for few hours with them.

In Japan today karaoke places are classified in two groups: one is a karaoke box (as pictured below) offering rooms containing karaoke equipment rented by the hour, and the other is a karaoke bar or lounge (as pictured above). While we enjoy karaoke within the fold of your companions in a karaoke box, in a karaoke bar we should sing a song in front of other people. In general, in Japan the former style is popular with relatively young people, and the latter with older people.




I usually go to a karaoke box because we enjoy it in my (our) own sweet way.

Karaoke is an extraordinarily common leisure activity in Japan, and the way of enjoying it varies according to a generation and taste in music. Personally, I find pleasure in picking a today's theme, for example a specific composer, lyricist and singer, and savoring melodies, lyrics and typical style of the period. It's interesting that music reflects the values of a particular time.

Well, anyway, never mind me.
Have it your way.
"Don't worry if it's not good enough for anyone else to hear, just sing a song!"



Posted by Kinakinw | 04:25 | Comment [0] | TrackBack [0] | Tokyo Life
01 2010
I make the comment function on my blog disabled because of a pile of spams.

My blog site is for Japanese, and a spam filter provided by the site is less effective against English spams. I tried several ways to differentiate the spams from comments in English, but unfortunately they were less than successful. (p_q) boo-hoo-hoo

Even so, you can comment through "Applause Button" on the bottom of the articles!
Its usage is just the same as comment function except a limit to the number of letters.


The button in itself is counting and showing the click-through count.
If you click the button, an applause completion screen will open. That's it. Your click will be counted, and I will become happy to see someone liked my post.

If you would like to comment, please go through the following steps:
(1) Click the applause button to open the completion screen. Comment column is at the bottom of the screen.




(2) All instructions are in Japanese, but I think you can guess what they mean. I'll explain just the parts that one might find incomprehensible.
・You can choose you comment publicly or privately. The default configuration is public mode. Well, while shorter word is public mode, long one is private mode.
・The button just the right of the comment mode is for posting comment.
・The long and thin button next to the posting button is for previewing.



(3) When you post a comment, another completion screen will open, on which you can read your comment.

It's simple.

To see my return comment, it may be convenient for you to open "Total Applause Page" on which you can see all applause comments regardless of which article you commented.
Just click the applause button to open the completion screen, and then click the name of the blog, "Tokyo Notebook" showed at the upper-right corner of the window.
Then you can proceed to the total page.




I'd love it if you'd comment!



Posted by Kinakinw | 16:16 | Comment [0] | TrackBack [0] | Comment on This Blog